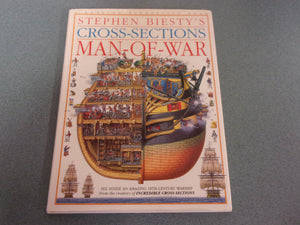 Stephen Biesty's Cross-Sections: Man-of-War (DK HC/DJ)
Look inside an 18th-century warship as it sails into battle on the high seas.

Packed with extraordinary illustrations, this history book for children covers everything from warship design to navigation.

Biesty's incredible drawings slice through a man-of-war to explore every corner, from the crow's nest to the stinking hold. Packed with fascinating facts and gory details, the pages teem with sailors going about their duties. Find out how gun crews fired a cannon, examine a surgeon's toolkit, and learn the best way to wriggle the maggots out of the ship's biscuits. Look out, too, for the stowaway on every page. He's the one with spiky hair, and there's a reward for his capture!