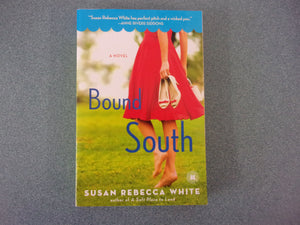 Bound South by Susan Rebecca White (Paperback)
From the award winning author of A Soft Place to Land and A Place at the Table comes a tale of three vibrant and unique Southern women—Louise, Caroline, and Missy—as their lives intersect in unexpected and extraordinary ways.

From the outside, Louise Parker seems like a proper Southern matron. But inside, Louise seethes. She's thwarted by her seemingly perfect husband, frustrated with her talented but rebellious daughter, scarred by her philandering father, and exasperated by her unstable mother. Louise simply doesn't know how to stop playing the role she's been starring in for her entire life.

A gifted actress, Louise's daughter Caroline can make any character seem real when she takes the stage. But Caroline is lost when it comes to relationships, especially when dealing with her mother. When Caroline's young, handsome drama teacher seduces her, she can't resist. But her forbidden affair will lead Caroline to a different kind of stage, with a new audience.

Missy loves Jesus nearly as much as she misses her father, a part-time minister who deserted his family when Missy was three. She accompanies her mother to work as a maid at the Parker residence, for two reasons: to help her mother to clean the house and to save the Parkers' irreverent son Charles.

By turns hilarious and poignant, this is a richly compelling debut novel of family, friendship, and folly.