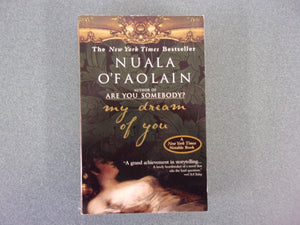 My Dream of You by Nuala O'Faolain
A New York Times notable book and bestseller, this debut novel from Irish Times columnist Nuala O'Faolain takes on life and love with Dickensian flair and the striking intimacy that characterized her bestselling and acclaimed memoir, Are You Somebody?

Set in Ireland and spanning a century and a half, My Dream of You unfolds the compelling stories of two women and their quests for passion, connection, and fulfillment.  A globetrotting Irish travel writer, Kathleen de Burca is used to living—and loving—on the run. On the brink of fifty, she decides to leave her job and rethink her life. Intrigued by a divorce case dating back to the days of the Potato Famine, she tries hand at writing about it. The case, called "The Talbot Affair," detailed the clandestine liaison between the wife of a British landlord and an Irish servant in Ireland in the 1850s. After a bitter thirty-year absence, Kathleen returns to Ireland, the land of her troubled childhood and turbulent heritage, in search of answers to her questions about desire and lasting love.