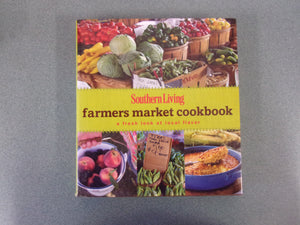 Southern Living Farmer's Market Cookbook: A Fresh Look At Local Flavor (HC/DJ)
Celebrate the seasons with fresh-from-the-farm recipes that will make you feel healthy and happy about the dishes you prepare for your family and friends.

Southern Living Farmers Market Cookbook offers recipes-arranged according to season-that make the most of the bounty of fresh ingredients found at local markets, U-Picks, and farm stands. Whether you have your own backyard vegetable patch or pick your produce from the local market, you'll find an abundance of garden-fresh Southern Living recipes that will bring vibrant flavor to the dining table.

Four chapters-Spring Recipes, Summer's Bounty, Autumn Harvest, and Winter Storehouse-are filled with a wide variety of dishes ranging from appetizers and beverages to entrées, breads, and desserts.

Lime Raspberry Bites, Fresh Corn Cakes, Skillet Grits With Seasoned Vegetables, Black-eyed Pea Cakes, and Sweet Potato Galette are just a sample of the many ways to prepare seasonal produce at the height of freshness.

This book is so much more than recipes. A complete chapter walks you through the farmers market experience. You'll almost taste the sweet strawberries of spring, summer's juicy vine-ripened tomatoes, and the pumpkins, potatoes, and apples of fall and winter.

A Fresh Produce & Herb Primer provides all the tips you need for selecting the best produce: how to choose the freshest beans and peas, what to look for when buying onions and peppers, and how to pick melons that are at the peak of perfection. You'll also find out how to store and prepare fresh produce.

And to explore farmers markets firsthand, don't miss the Farmers Market Finds section. It's an extensive guide to some of the best markets and food festivals across the South.