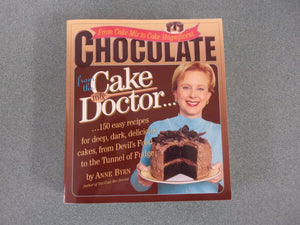 Chocolate from the Cake Mix Doctor by Anne Byrn (Paperback)
The Cake Mix Doctor goes chocolate! Anne Byrn brings her proven prescription for doctoring cake mix to an ingredient that inspires love bordering on obsession.
It's a marriage made in baker's heaven-150 all-new, all-easy recipes for cakes, starring the ingredient that surpasses all other flavors, including vanilla, by a 3-to-1 margin, and that Americans consume to the tune of 2.8 billion pounds a year. Starting with versatile supermarket cake mixes and adding just the right extras-including melted semisweet chocolate bars, chocolate chips, or cocoa powder, plus fresh eggs or a bit of buttermilk, dried coconut, mashed bananas, or instant coffee powder-a baker at any level of experience can turn out dark, rich, moist, delicious chocolate layer cakes, time and again. Not to mention sheet cakes, pound cakes, cupcakes and muffins, cheesecakes, cookies, brownies, and bars. Rounding out the book are 38 all-new homemade frostings and fillings, and a full-color insert showing every cake in the book.