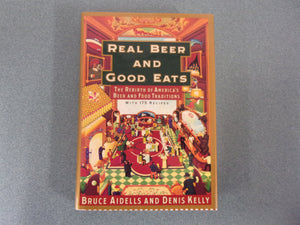 Real Beer And Good Eats: The Rebirth of America's Beer and Food Traditions (Knopf Cooks American) HC/DJ
A cookbook for beer lovers -- and much, much more. In Real Beer & Good Eats, Bruce Aidells and Denis Kelly take you on an exhilarating beer and food odyssey into the heart of America, tasting the rich new full-bodied beers and ales that are being produced by small breweries today and sampling delicious foods that go with good suds. Along the way, they tell you the story of American beer, from the founding fathers (who refused to tax what they called "liquid bread") and Washington and Jefferson (who both brewed their own) to the heyday of beer gardens and neighborhood saloons.

The renaissance of good beer-making that is sweeping the country brings with it a new interest in foods that go well with beer. The 175 recipes that Aidells and Kelly bring together here reflect the great American regional dishes and traditional saloon fare, as well as the cooking of brewpub chefs who are creating a new beer cuisine.