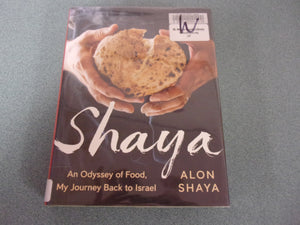 Shaya: An Odyssey of Food, My Journey Back to Israel: A Cookbook by Alon Shaya (Ex-Library HC/DJ)
Alon Shaya's is no ordinary cookbook. It is a memoir of a culinary sensibility that begins in Israel and wends its way from the U.S.A. (Philadelphia) to Italy (Milan and Bergamo), back to Israel (Jerusalem) and comes together in the American South, in the heart of New Orleans. It's a book that tells of how food saved the author's life and how, through a circuitous path of (cooking) twists and (life-affirming) turns the author's celebrated cuisine--food of his native Israel with a creole New Orleans kick came to be, along with his award-winning New Orleans restaurants: Shaya, Domenica, and Pizza Domenica, ranked by Esquire, Bon Appétit, and others as the best new restaurants in the United States.
     These are stories of place, of people, and of the food that connects them, a memoir of one man's culinary sensibility, with food as the continuum throughout his journey--guiding his personal and professional decisions, punctuating every memory, choice, every turning point in his life. Interspersed with glorious full-color photographs and illustrations that follow the course of all the flavors Shaya has tried, places he's traveled, things he's experienced, lessons he's learned--more than one hundred recipes--from Roasted Chicken with Harissa to Speckled Trout with Tahini and Pine Nuts; Crab Cakes with Preserved Lemon Aioli; Roasted Cast-Iron Ribeye; Marinated Soft Cheese with Herbs and Spices; Buttermilk Biscuits; and Whole Roasted Cauliflower with Whipped Feta.