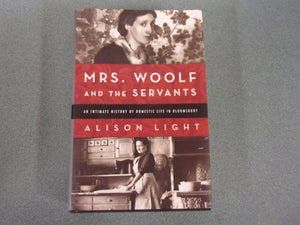 Mrs. Woolf and the Servants: An Intimate History of Domestic Life in Bloomsbury by Alison Light (HC/DJ)
A revealing and personal new perspective on the Bloomsbury set and the servants who shared their lives.

When Virginia Woolf wrote A Room of One's Own in 1929, she established her reputation as a feminist, a woman who could imagine a more open and liberal reality, and an advocate for the female voice. Indeed the Bloomsbury set has often been identified with liberal, open-minded views; Woolf's circle of artists and writers were considered Bohemians ahead of their time. But they were also of their time. Like thousands of other British households, Virginia Woolf's relied on live-in domestics for the most intimate of daily tasks. That room of her own she so valued was cleaned, heated, and supplied with meals by a series of cooks and maids throughout her childhood and adult life. In Mrs. Woolf and the Servants, Alison Light gives depth and dignity to the long-overlooked servants who worked for the Bloomsbury intellectuals.

The result is twofold. For one, Light adds revealing nuances to our picture of Virginia Woolf, both as a woman and as writer. She also captures a fascinating period of British history, primarily between the wars, when modern oil stoves were creeping into kitchens to replace coal, and young women were starting to dream of working in hat shops rather than mansions.

Despite the liberal outlook of the Bloomsbury set, and their conscious efforts to leave their Victorian past behind, their homes were nevertheless divided into the worlds of "us" and "them." Alison Light writes with insight and charm about this fraught side of Bloomsbury, and hers is a refreshingly balanced portrait of Virginia Woolf, flaws and all.